Yesterday conducted a poll to find whether UPI apps are the good substitute for Paypal in India or not? And 88% of people voted in favor of UPI apps. Why so? What is UPI means? And how is it good than PayPal in India? Let's break it one by one, first of all, let's understand what UPI is and what its role?
In simple layman words, UPI is a new method of payment without knowing the bank details of the person being paid. Payment is done using the virtual payment address similar to email and UPI stands for Unified Payment Interface.
PayPal: - PayPal is the mother of the all online wallet and introduced this world by the E-Wallet Concept. It is firstly focused on a small group of eBay customers and now become world largest accepted online wallet.
PayPal wallet is the used to make generally overseas payment in India. By using PayPal you can transfer the fund into the more than the 150 countries. Almost all international shopping website and payment gateway accept payment through PayPal. But in India, it rarely sees the PayPal is used for paying a mobile bill or accepting fund or transfer funds as it has a certain limitation of use in India.
On asking what is the reason, that you think that UPI apps are the great substitute for PayPal, people responded with few points that are valid from the point of view of the user.
What are the most used UPI apps in India?
The Indian Mobile Payments App market is witnessing an aggressive competition, with Google Tez being the latest addition. There are several mobile payment applications available now other than Google Tez are, Paytm, PhonePe and BHIM app.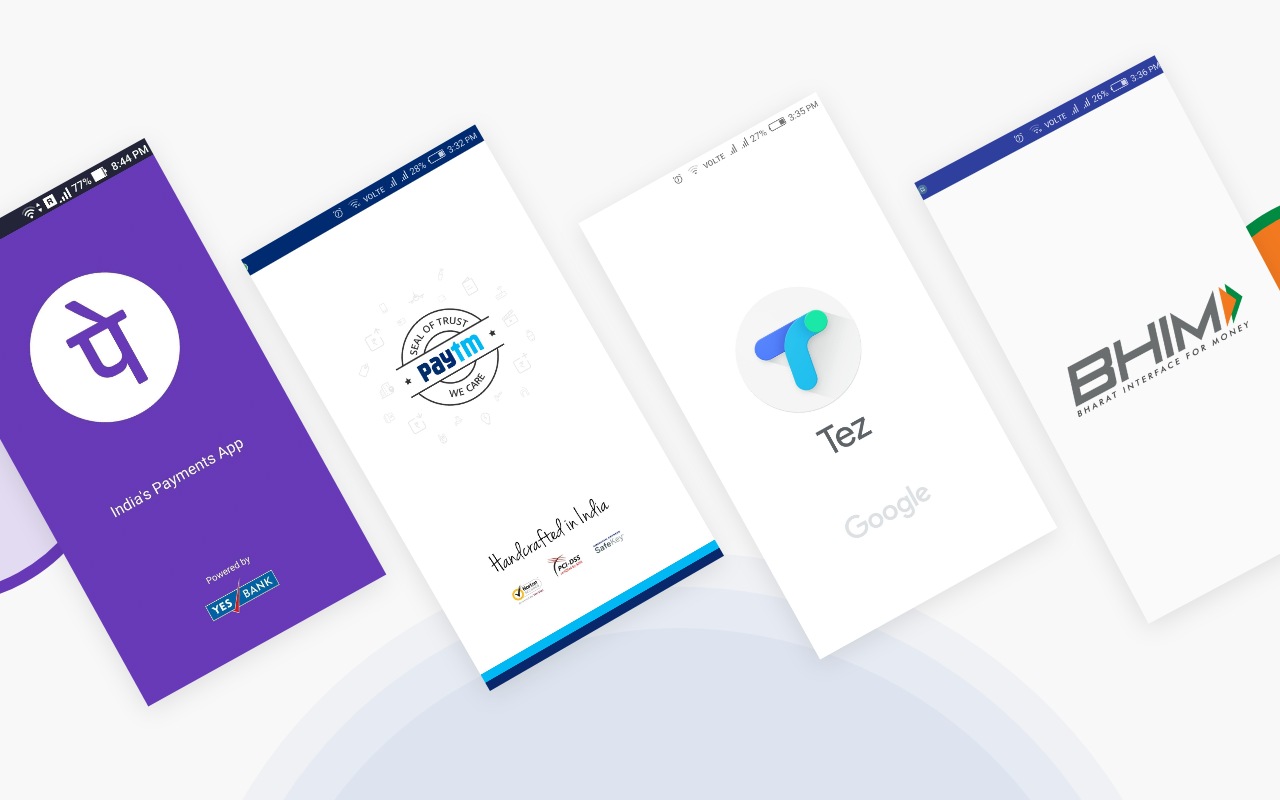 Google Tez recently called as Google Pay, is the latest addition to UPI family, Tez application comes with UPI integration. Really easy, fast and direct payment transaction through a bank account.
Paytm: One of the seasoned players in mobile payments app market Paytm can make transactions using a mobile wallet, credit/debit cards, and UPI. Paytm has even added a recent feature where you receive cash back in form of Gold, which is securely stored by Paytm only.
PhonePe is a UPI based app to provide cashless transactions. The app allows you to transact using the PhonePe wallet, Credit/Debit card, or UPI. It works same as Paytm, you can pay the bill, phone recharge etc.
BHIM: There is another player in the market of India known as BHIM; this mobile payment solution is from India's very own NPCI (National Payments Corporation of India). BHIM stands for Bharat Interface for Money. This app allows you to transact only via UPI.
How can UPI be a good substitute for PayPal?
Here are my thoughts, after RBI declared limitations on personal use of PayPal in India. Doing bank transfer with that much of detail information is kind of long process and hectic to follow, lot's of number to deal with like account number, IFSC number etc. Wherein UPI payments a username considered as equivalent to all those details, it becomes your virtual account number.
UPI can make banking transactions more intuitive. While all these Mobile Payment platforms offer some unique features, they're fit for usage by different audiences. While BHIM makes it easier for you to make payments without an internet connection, Google Tez is a secure way to use UPI for quick nearby payments, Paytm and PhonePe are much of wallet with multiple functions integrated with them.
So, have you registered your UPI username?